Cedarwood essential oil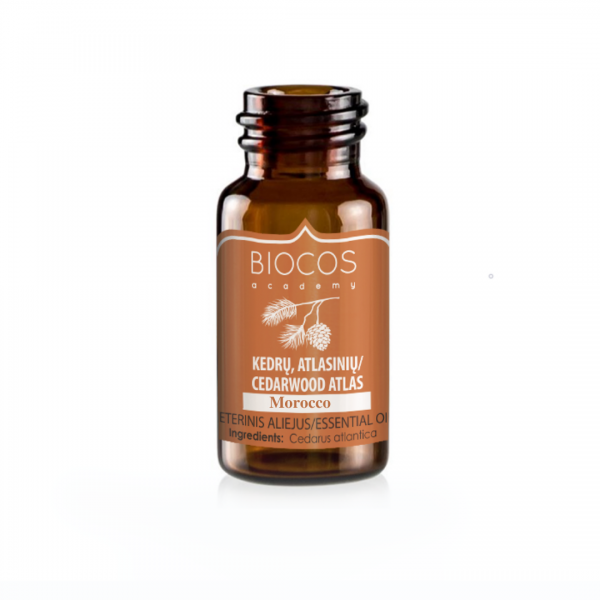 View larger
Cedarwood essential oil
Cedarwood essential oil contains antiseptic, antispasmodic, toning, astringent, diuretic, antifungal, soothing properties and helps repel insects.
No reward points for this product.
Availability date:
Data sheet
5 ml
Cedrus atlantica
Origin: Marocco
Cedarwood essential oil has been used in medicine and cosmetics since the Sumerian and Egyptian times. Essential oil is even mentioned in the Bible more than 40 times.

Essential oil is distilled from pine wood shavings and sawdust. It has a soft wood scent with a faint tinge of sandalwood. Oil has viscous, pale yellow or pale orange colour.

Cedarwood essential oil has antiseptic, antispasmodic, toning, astringent, diuretic, antifungal, soothing properties, repel insects.
Cosmetics: cedar oil is used for mixed and oily skin, helps treat dermatitis and psoriasis, seborrhoea. Reduces skin flaking, regulates sebaceous gland activity, reduces skin sebum excretion level and helps to treat acne. For Hair care products –  reduces dandruff.

Repels insects: repels insects, mosquitoes, reduces skin itching. Essential oils must be diluted with vegetable (base) oil and only then applied on the skin, in order to avoid allergies, or evaporate at home in aroma candlesticks.
Antiseptic: Protects wounds from bacteria.

Relieves pain: relieve different types of pain - the respiratory system, intestines, heart or nervous system.

Eases couthing: Oil eases cough and helps the respiratory tract and lungs to remove phlegm, relieves headaches. The oil can be steamed in the evening before going to bed or doing inhalations.

Tonic: cedar oil can be used as a health tonic, it stimulates the metabolism. It tones up the muscles, skin, nervous system, stomach, digestive system and brain functions.
Diuretic: eliminates toxins from the body. It is recommended for obesity, hypertension or high blood pressure, rheumatism, arthritis and gout, urinary tract infections. The urine is excrets more fat, water excess and toxins from the body.

Promotes menstruation: promotes menstruation and helps to regulate the cycle, reduces PMS syndrome, nausea, fatigue.

Soothing: soothes and relieves tension.

Warning: Cedarwood essential oil should not be used during pregnancy. Do not use pure essential oils on the skin, dilute 3 % with vegetable oil or add during the production of cosmetics.

Blending: cedarwood essential oil blends with Benzoin, Bergamot, Cinnamon, Cypress, Frankincense, Jasmine, Juniper, Lavender, Lemon, Llime, Rose, Neroli and Rosemary essential oils.
Blending: Vanilla phytol blends with Orange, Lemon, Neroli, Chamomile, Lavender and Sandalwood essential oils.
| | |
| --- | --- |
| Effect on emotions | Balancing/harmonizing, Soothes/relaxes, For better sleep, Anti-stress |
| Environmental impact | Cleansing/disinfecting, For sauna, To repel insects, For plant care |
| For cosmetics & massages | Facial cosmetics, For hair, Anti-cellulite, For breathing, Anti-inflammatory |
| Extractable parts of the plant | Wood |
| Suitable for animals | For dogs, TOP-20 for animals |
| Perfume note | Base note |
| Method of extraction | Distillation |